Powered by Darren Smith Painting
Get in touch for a free quote
Your local Roof painting specialists
For the roof painting Mackay homeowners will be proud to display to guests, call us today for an obligation-free quote.
We have years of experience in roof painting. Our deep knowledge of the different types of roofs, you can be sure we will know how to work on your property for the best results. We use only the top of the range products to ensure your roof remains in great condition for many years to come.
Giving your roof a fresh coat of paint will not only brighten up your house, it will prolong the life of your roof. It will also help you save money in the long run. If your roof's colour is beginning to look jaded or if it is leaking or showing other signs of damage, it's time to invest in roof restoration.
Metallic roofs on houses near the Coral Sea coastline are prone to corrosion caused by the oxidation and the salt present in the humid air. Within a few years, your once pristine roof may start to suffer discoloration. Roof tiles may begin to crack and break if they are left unattended.
At Mackay Roof Painters and Darren Smith Painting, we have a reputation for attention to detail and quality workmanship. We have the expertise and know the right products to use to restore your roof to its former glory.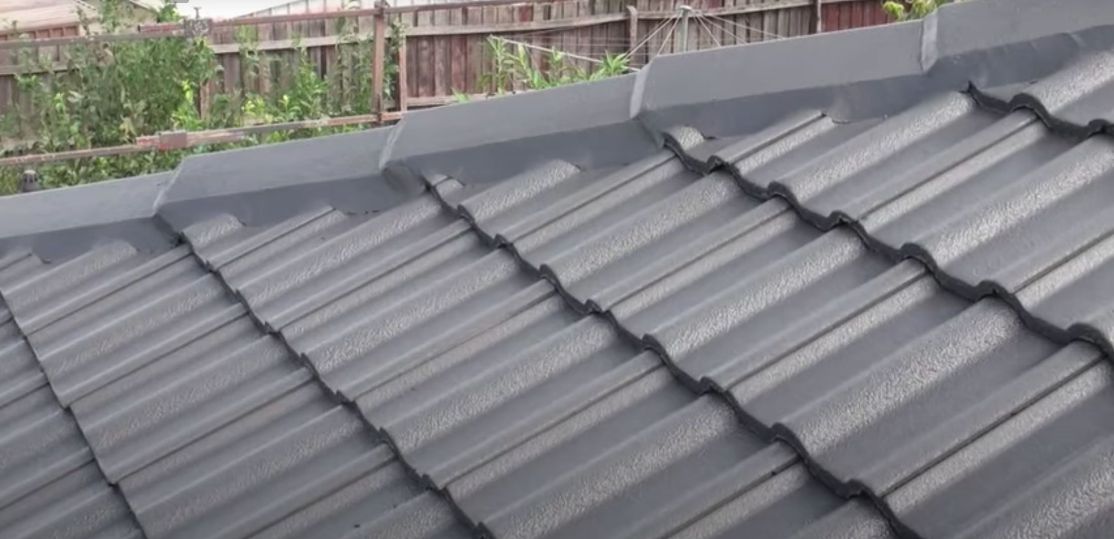 Why You Should Paint Your Roof
Investing in beautifying your roof is a good idea for more than just the improved aesthetics. Some of the roof painting benefits are:
Prevent damage: A roof that is neglected will succumb to corrosion which may eat through the tin or tiles and lead to leakages. Lichens and algae may also begin to grow on the surface. These retain moisture, leading to long-term damage and rust. Repainting your roof will arrest such degradation and prolong the life of your home. By adding quality roof sealing Mackay homeowners can further add to their roof's length of service.
Weather-proofing: With a coat or two of the right paint your roof will be able to withstand temperature highs and lows as well as excessive precipitation. Our team of house painters Mackay property owners prefer to call on to conduct thorough preparation of the roof to bolster its resistance against the elements.
Improved aesthetics: You will look forward to returning home after work if you were going back to a beautiful structure with a gleaming new roof. Professionally done roof painting will contribute positively to the first impression guests have of your pad when they visit. We are not limited to roof painting; we are external painters Mackay homeowners rely on to do complete painting of their structures.
More value: A shiny new roof will boost the value of your home. If you're in the real estate business, you stand to profit more from your investment. Your house will command a better price than if it was covered by a dilapidated roof that adds nothing to its visual appeal.
Cost-effective renovations: Giving your roof a new coat of paint is much cheaper than replacing all its tiles. Through periodic roof painting Mackay residents will avoid the expense of large scale repairs, driving down their overall maintenance expenditure.
Why Choose Mackay Roof Painters?
We have spent several years painting residential roofs from Lake Gardens to Golden Point. You can depend on us for a beautiful, long-lasting finish that will withstand anything the Mackay climate will throw at it. You'll be choosing the right roof painters when you work with us. 
We pride ourselves in paying attention to every last detail in every step of the roof painting process. Before we begin painting we undertake extensive preparations to guarantee the longevity of the paint job.
With us as their roof painters Mackay property owners will have the comfort of knowing their job is being handled by a fully licensed and accredited contractor. In addition to guaranteeing you a high quality finish, we uphold industry health and safety standards in every project we undertake. 
In addition to having a brand new roof, your home will be spick and span by the time we're leaving the site. There will be no debris from the roof, splashes of paint or any other blemishes on or around your house.
Uncompromising customer service:
From the sending of the initial quote to the commissioning of the new-look roof, we kept the project transparent. Every query you have will be promptly and courteously handled.
Roof Painting and Restoration Process
Roof inspection: Here our roof painting specialists conduct a thorough inspection to ascertain the extent and nature of damage the roof has suffered. Based on their findings we will be able to determine the roof restoration Mackay homes like yours require and provide you with a quote.
Cleaning: Before we begin the roof cleaning we cover up any areas that dirt from the roof may land on with tarpaulin sheets. We then brush away any loose dirt or debris before using a high-pressure washer to remove hidden dirt, algae, lichen and stains. Besides removing visible dirt particles, the high-pressure washer will reveal cracks and other kinds of damage.
Replacing and resealing: Following the roof cleaning Mackay Roof Painters will ordinarily conduct a second inspection to assess the extent of repairs that need to be done. Besides replacing broken tiles, we repoint ridge tiles, seal all joints and recap the top of your chimney.
Sealing: We apply acrylic sealer prior to painting to enhance adhesion and waterproof the paint. This will enable your roof to stand up to the extremes of Queensland's weather. We know the kind of roof sealing Mackay homes need for the best results.
Painting: When the sealer has properly cured, we can begin the application of the roofing membrane in the colour of your choice. We apply multiple coats to ensure the paint lasts for several years. After the painting is done, you can go ahead and repaint the rest of your house to give your house a uniform look.
Treatment: To kill off any roots or spores and prevent the future growth of moss or fungi, we treat the restored roof with a powerful, environmentally friendly antifungal agent.
When to Do Roof Restoration
Here are the telltale signs that will let you know it's about time you start setting up a budget for tile roof restoration.
A well installed roof should typically last at least 20 years. After this the roof may start developing problems such as cracking and leaking recurrently. In some cases such issues crop up even before the roof has reached its 15th year.
If you notice sagging from the inside or externally, your roof needs the attention of a roofing expert. Should the sagging be clearly visible from a distance, you should consider restoring your roof urgently.
Peeling roof paint could be a sign that corrosion is eating at the tiles beneath. If you notice corrosion or peeling paint on your gutters or the roof itself, you need to bring in expert roof painters Mackay residents trust to assess the full extent of the damage and begin restoration.
Cracked or broken tiles create channels through which leakage can occur, causing further damage to the roof itself and the ceiling boards. Running water seeping through the ceiling can stain the interior or exterior walls, necessitating extensive repainting.
 vInspecting your roof every two years is recommended so that you can nip any problems in the bud. Carrying out an inspection after a heavy storm will also help you ascertain if the roof suffered any damage.
Roof inspection is risky without the right equipment or the know-how to accomplish the task safely. It is therefore advisable to bring in qualified professionals in roof restoration Mackay homeowners trust like Mackay Roof Painters. Besides being able to conduct roof inspection safely, we will know what to look out for and how to address any issues we find.
Exterior House Painting Mackay
After roof painting is complete, you may want to give the rest of your house a touch-up so as to give it a uniform new look. You won't need to look further for professional painters Mackay residents trust to repaint gutters, garage doors, walls or even wood decking. We have the products and the expertise to complete the makeover.
You won't need to call another contractor if corrosion and peeling spreads from your roof to the gutter and causes the fascia boards and soffit to rot. Even if the boards have developed mildew, we can get rid of it and prepare them for repainting. If your walls have suffered substantial damage as a result of water leaking onto them, we will replaster and repaint them to the highest standard.
For even better results, we can give your home a complete exterior paint job from top to bottom. This may prove to be a more cost-effective solution for you in the long run.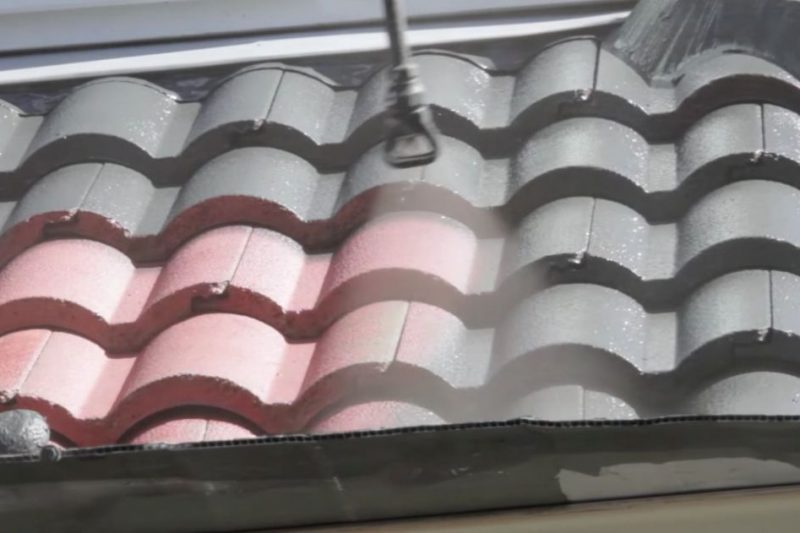 IF YOUR ROoF IS LOOKING A LITTLE WORSE FOR WEAR AND IN NEED OF ATTENTION, YOU MAY BE CONSIDERING PAINTING YOUR ROOF YOURSELF. WITH SAFETY BEING ONE OF THE MORE IMPORTANT FACTORS TO KEEP IN MIND, THERE ARE SEVERAL OTHER REASONS WHY A DIY ROOF PAINT JOB IS NOT A GREAT IDEA.
Safety: The roof is one of the most dangerous places to be if you are a DIY enthusiast looking for roof painting work, especially considering that roofers spend a lot of their working day on an elevated roof top. There is no doubt about the fact that it can be very tempting to get out there and take care of things yourself – after all it will save you some money but its always worth remembering that before you start your roof repaint project, safety must come first.
This means that any equipment and materials should be chosen based on expert advice. Furthermore it means using safe practices such as avoiding unsteady ladders and dangerous roof angles where possible; moreover people who are inexperienced with heights or should not be roof painting. iring a roof painter will ensure that you get a professional finish for your roof which makes it look great; hiring a roof painter also means paying someone else for an important safety measure – why would anyone want to mess with something as potentially dangerous as this?
Roof condition assessment: Before roof painting work begins, a team of roof painters from Mackay will come out and evaluate the current state of your roof. They will give you a roof condition report which details the roof's current state, any problems that need to be fixed and what roofing materials are needed. After receiving your roof evaluation report, you will have all the information you need in order to decide whether roof repair or roof painting work is more important. This roof inspection procedure from certified roof painters Mackay is another one of the reasons why professional roof painting should be left in the hands of roofing experts.
These roof inspection reports will give you all the information that you need to know about roof paint job costs and what roof painting methods are appropriate for your roof – so taking this task upon yourself can really cost you more time, money and effort!
The timeframe for roof restoration is dependent on a number of variables. The weather, the type of paint to be used and the type of roof you have all determine how quickly the job can be completed.
When it comes to roof painting Mackay homeowners should know there's no fixed price; each project is likely to have a unique cost depending on a couple of factors. Besides the size of the roof, you need to consider if the building has more than one storey. The condition of the roof will also determine the cost of restoration. Feel free to contact us for a free quote.
Without regular roof cleaning Mackay homes will easily accumulate algae and mildew because of the humid climate.